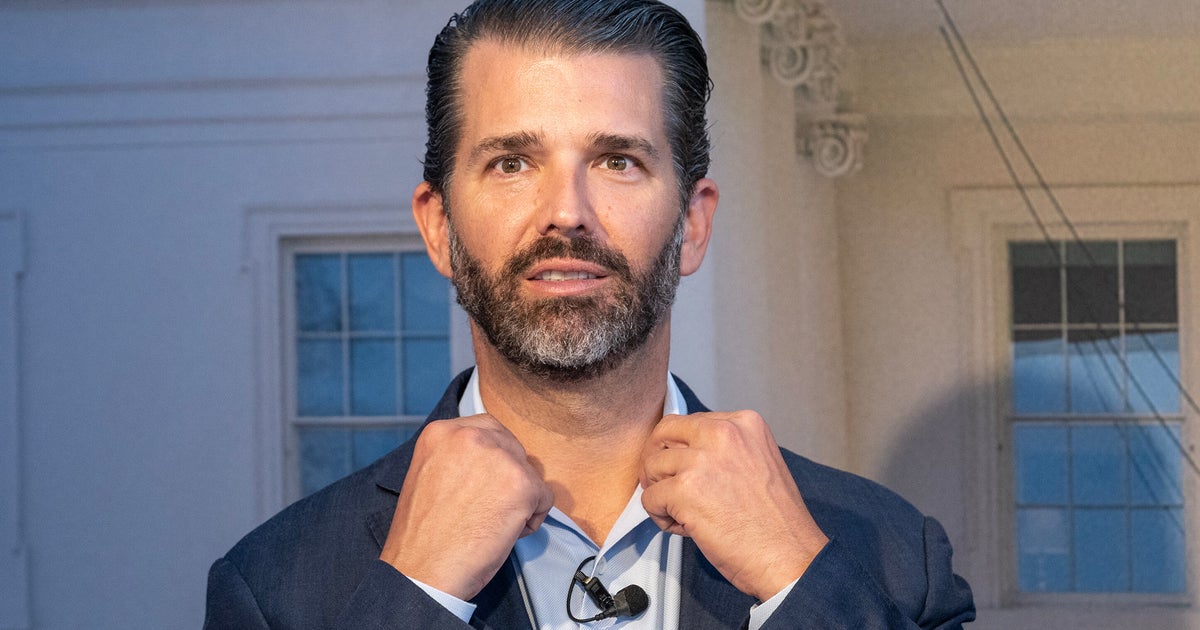 Donald Trump Jr., son of Donald Trump, is annoyed that Tucker Carlson's attempt to rewrite the history of the Jan. 6 attack on the U.S. Capitol isn't getting much traction elsewhere on Fox News.
Carlson, the prime time star who was given exclusive access to Jan. 6 security footage by House Speaker Kevin McCarthy (R-Calif.), has cherrypicked the videos to claim the pro-Trump rioters were basically just "sightseers" and not violent insurrectionists intent on overturning President Joe Biden's victory.
Advertisement
But Carlson's view hasn't caught on in the halls of Congress, where even GOP lawmakers condemned his claims, or elsewhere on Fox News.
Trump Jr. linked to a Mediaite report saying Carlson's report is "being quietly buried by the network."
Why on earth is the rest of Fox hiding the truth?

Fox News is Completely Ignoring Tucker Carlson's Jan 6 Tapes https://t.co/peT5yKI2C8

— Donald Trump Jr. (@DonaldJTrumpJr) March 7, 2023
Despite his links to Carlson's attempt at gaslighting, Trump Jr. recognized what was happening as events unfolded on Jan. 6.
Advertisement
"He's got to condemn this shit ASAP. The Capitol Police tweet is not enough," he texted to then-White House chief of staff Mark Meadows, according to messages obtained by the House Jan. 6 committee.
Meadows replied that he was "pushing" then-President Trump to do so.
"We need an Oval Office address," Trump Jr. replied. "He has to lead now. It has gone too far and gotten out of hand."
Critics of the ex-president's son fired back at his tweet by noting that Fox News is already being sued for $1.6 billion over its other false claims related to the 2020 election and its aftermath.
Some also pointed to newly revealed messages that show Carlson declared he hates the ex-president "passionately."
Because , as proven in a court of law – for which they risk being held liable for billions & billions – they know it's all nothing but a giant, steaming turd (kind of like your rants)

— Alex Skolnick (@AlexSkolnick) March 7, 2023
Advertisement
Why are they ignoring Tucker's make-pretend about January 6th?

Because the last time Fox knowingly lied as a network they got sued for a billion dollars.

— Jay Black (@jayblackisfunny) March 7, 2023
They know this is the final nail for Fox. What is it, $1.6 billion, plus possible punitive?

I wouldn't doubt if other media don't actually want the tapes anymore either.

— Mike Morton (@TheMikeMorton) March 8, 2023
SIMPLE! Because they are being sued for a BILLION DOLLARS for spreading the BIG LIE to their audience, helping your daddy.

Because their pundits, including Tucker, are on tape and in text messages knowing it was a lie and still spreading those lies. Because they are caught!

— Human🇺🇸🇺🇦🇺🇸 (@4HumanUnity) March 7, 2023
No one tell him, let him get there by himself

— ThatGed (@That_Ged) March 8, 2023
Advertisement
Haven't you heard, you nitwit? They are being sued – and rightly so – for promoting their version of the truth!

The only reason why you aren't considered the absolute dumbest of the ultra dumb Dunce Rump crime cartel, is because you have a brother named Eric! https://t.co/6iQ1XPyWr2

— DENSMORE (@ultimate1us) March 8, 2023
Tucker Carlson said that he hated Trump passionately. That's probably the only truth Tucker Carlson has ever said. https://t.co/1F0P3uO7oD

— Melanie (@Melanie86862076) March 8, 2023