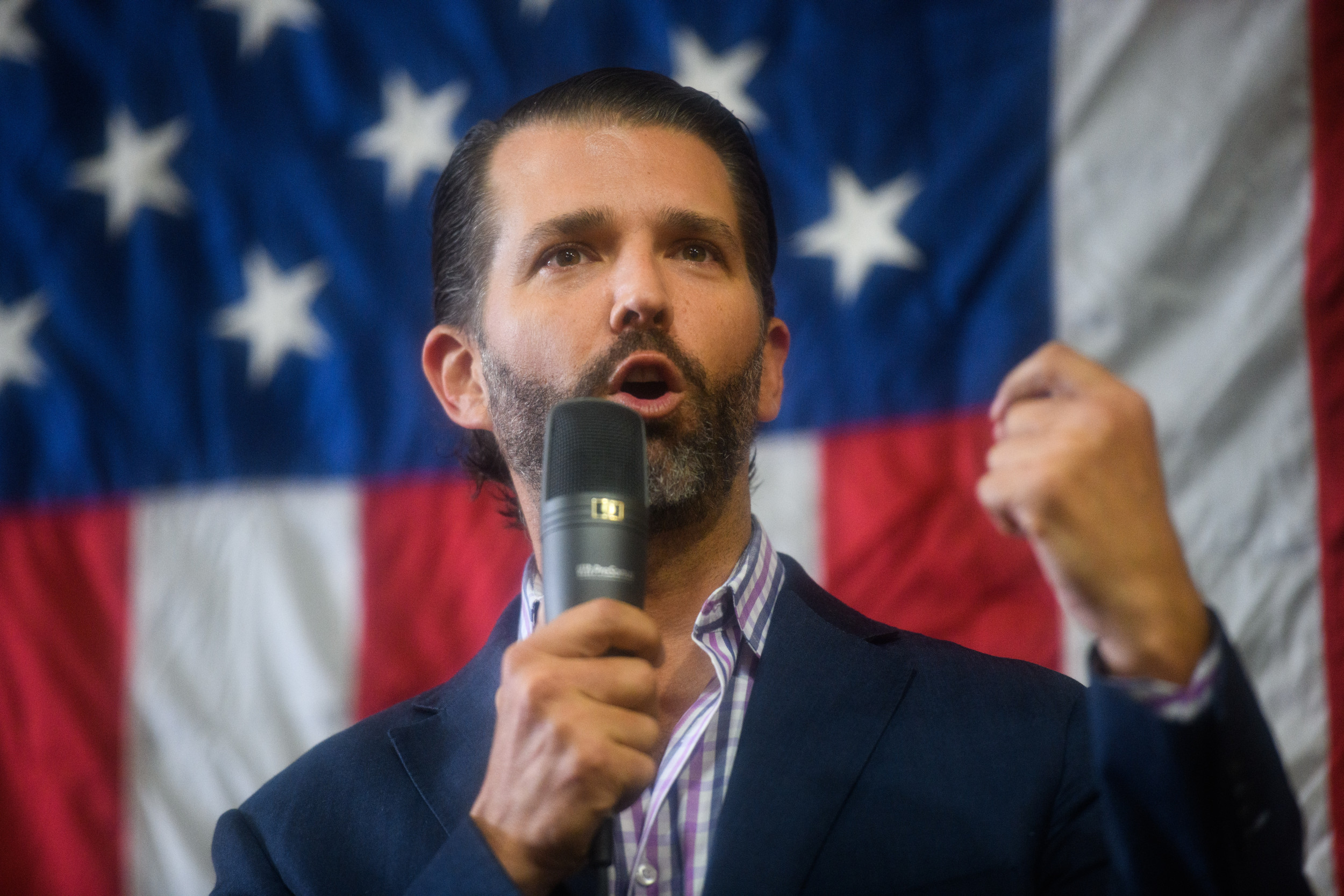 Donald Trump Jr. has claimed the leaking of the draft Supreme Court decision overturning Roe v. Wade is being covered up, after the court said it was unable to determine who leaked the document following an internal investigation.
In May 2022 a draft indicating Roe v. Wade, which concluded abortion access is a constitutional right, would be overturned was leaked to Politico.
The full judgment, which closely matched the leaked draft version, was released on June 24, confirming an end to the U.S.-wide constitutional right to an abortion.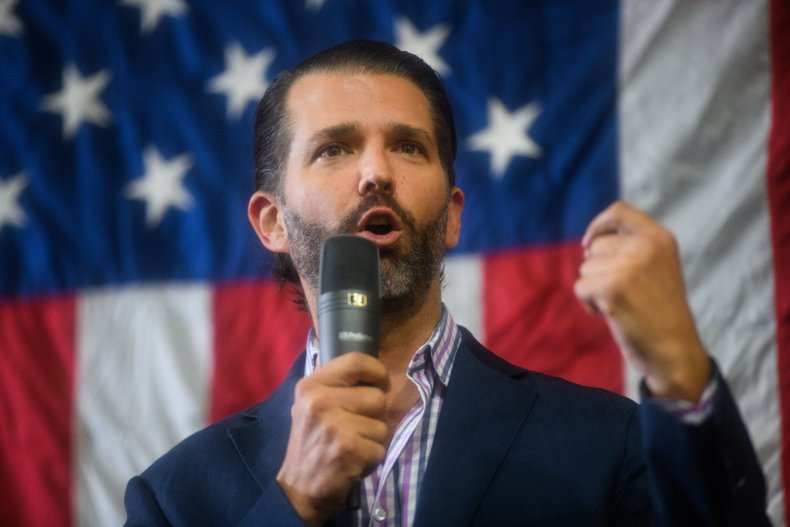 Donald Trump Jr. speaking to audience members before introducing U.S. Senate candidate Rep. Ted Budd (R-NC) during a campaign rally at Illuminating Technologies on October 13, 2022 in Greensboro, North Carolina. Trump Jr has suggested the leaking of the Supreme Court's draft ruling overturning Roe v. Wade, in May 2022, has been covered up. Melissa Sue/GETTY
The initial leak infuriated anti-abortion campaigners, with some conservatives claiming it may have been done to try and sabotage the ruling.
Trump Jr. responded with fury to the failed internal investigation, which was conducted by Supreme Court Marshal Gail Curley.
Speaking on his Rumble podcast, "Triggered with Don Jr," he said: "The Supreme Court has released a statement that after eight months of investigation, they are shockingly unable to identify who leaked the draft Dobbs decision. I have a feeling if it was a Republican, and it was benefitting the pro-life movement, they would have found the person in about three seconds.
Junior says SCOTUS is "covering up" the leaker, which will "sow discord and distrust in our institutions & governmental bodies .. It's like the Epstein client list. If Trump was on that list, it would've leaked. You know he's not on that list because it didn't." pic.twitter.com/oVuPXecpWZ

— Ron Filipkowski 🇺🇦 (@RonFilipkowski) January 20, 2023
"If you're really serious about identifying the leaker you don't turn the investigation over to the Supreme Court Marshal, who has no actual experience or expertise in conducting sensitive investigations.
"They're covering it up, this is sick. I don't trust any of these people anymore and I genuinely believe they know who it was, but they won't tell us because it would hurt their institutions that they are trying to protect."
According to the Supreme Court's report Curley's team interviewed 97 court employees who may have had access to the draft judgment.
It examined cell phones, computers and even used forensics to investigate printers from which the documents could have been produced.
The resulting 20-page report described the draft leaking as "one of the worst breaches of trust" in the court's history, adding it was a "grave assault on the judicial process."
Notably however, Curley decided not to interview any of the Supreme Court Justices, or their partners, under oath.
She said: "During the course of the investigation, I spoke with each of the Justices, several on multiple occasions.
"The Justices actively cooperated in this iterative process, asking questions and answering mine. I followed up on all credible leads, none of which implicated the Justices or their spouses.
"On this basis, I did not believe that it was necessary to ask the Justices to sign sworn affidavits."
Speaking to right-wing network Real America's voice on Thursday Lou Dobbs, a Fox Business political commentator, also expressed skepticism about the court's investigation.
He said: "I think, it's, frankly, it's a rank cover-up on the part of the Supreme Court trying to avoid responsibility for one of the clerks, perhaps one of the justices or the other administrators.
"We know it had to be amongst that group, and the head of security for the Supreme Court, I fully believe, knows who it is."
The Supreme Court has been contacted for comment.